Jimmy
Well, I'm back from my first regional Morgan show.  I'll always remember this Gold Cup more for the food and catching the plate on fire in the microwave than for the actual horsie events.  In terms of performance, it was disappointing and has made me think about a lot of things, namely whether or not I want to spend the money to take Nyk to the Grand Nationals.  I never thought we would win there, but I was kind of hoping for middle of the pack results.  We couldn't even do that at a regional show.  This was very disappointing; will hard work make it possible to be more competitive?  I just don't know.
Peanut
I rode down to Springfield in the Party Bus, and I enjoyed staying at the fairgrounds.  It was a lot of fun, and so much more convenient then driving back and forth from a hotel.  The showers weren't bad, there was free WiFi access in the bar, and the food carts, though expensive, were tasty, for the few meals that I was forced to eat at the fairgrounds.  Still, charging 2 bucks for a cup of coffee and 6 for a breakfast burrito is one step shy of criminal.  Glad I remembered to bring a can of coffee, and after scrubbing out the coffee maker on the RV, I was able to make as much as I wanted, for free. 
Gizmo
Our first class, a driving class, got off a rocky start.  My usually solid pony decided he wanted to canter down the entire rail when we entered the arena.  Since we were the last ones in, and the gate was quickly closed, we didn't place very well.  Nope, not well at all.  Dead last was where we ended up, and we stayed there most of the week.  While I admit that I failed my little guy in the first class by not getting him to put on the brakes, I'm not so sure that the rest of our weak performances was due to me - or even the horse.  Yikes.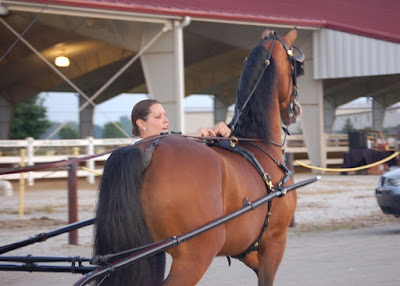 Gizmo
First riding class was an absolute disaster.  Almost didn't make it into the show ring on time.  I still don't know what the deal was, because Nyk was the only horse from the barn showing that night.  There was nothing else to do but get him ready.  Needless to say, we were racing to the arena just before the class, which meant no warm up.  I have been having a very difficult time getting him off of his bridle, and without a trainer to warm him up, things didn't go so well.  Sigh.  Ok, so there were still a couple of classes left to try to make a comeback, but I will admit that I was beyond fuming after that class.  The paper plate didn't even smoke as much as I was at that point in time.
Nyk – the only picture with his ears up
The rest of the show went a bit more smoothly, though we never did show well.  Nyk's tack was changed, in hopes of making him lighter on the bit.  He wasn't a happy horse during the show, and instead of his usual happy ears, they spent most of the time pinned backwards to his head.  I still don't know what his problem was, but it needs to be figured out before the next show.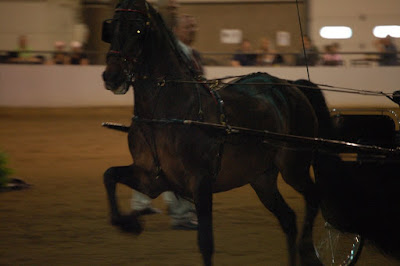 Nyk
Just a word of caution - if a paper plate has "May be Flammable" stamped on the bottom, you can bet your shorts that it will most definitely catch on fire.  In about 10 seconds flat.  So, please use the caution that I didn't.  Or make sure that you have access to a water source near at hand.  Like I did.